Blog Home
Inside The Deal: New Spring District Apartment Complex Sparks $150M Sale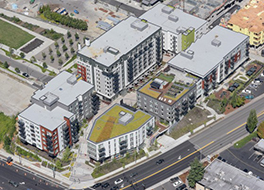 Sparc Apartments, the new five-building apartment complex in Bellevue's Spring District, traded hands Thursday for $150 million.
Sieg Fischer
, a California businessman better known for publishing than real estate investment, bought the 309-unit property that was the first project built in the $2.3 billion mixed-use Spring District. Developer Security Properties of Seattle developed Sparc with equity partner USAA Real Estate Co.
"This is my first big splash after having invested in some small things about 35 years ago," Fischer said.
He flipped those early investments — a trio of tiny apartment properties in California — and used the profits as seed money for AGI Publishing Inc. The Fresno, California company is an independent Yellow Pages publisher. Fischer said the investment in Sparc is separate from AGI.
"There's terrific potential for appreciation over time," he said, citing the location in the 36-acre Spring District, a former industrial area in the Bel-Red corridor east of downtown Bellevue. He has hired Avenue5 Residential of Seattle to manage the asset, which he bought with a loan from New York Life Insurance Co.
The Spring District is also home to Global Innovation Exchange, a Microsoft-backed
education venture
between the University of Washington and China's Tsinghua University. Nearby outdoor gear cooperative Recreational Equipment Inc. is building
an eight-acre headquarters
, and Spring District master developer Wright Runstad is under construction on
an office building Facebook is interested in leasing
. Light-rail service is scheduled to begin in the district in 2023.
From the start Security Properties and USAA planned to sell Sparc, Security Senior Director
Michael Nanney
said.
Rents average $2.60 per square foot, according to Nanney, who said the occupancy was 100 percent in the summer but fell off in autumn. Averaged out over time the occupancy rate is around 95 percent, he said. Before the sale, Sparc was offering $3,000 gift cards plus six weeks of free rent to lure tenants.
Nanney said investor interest in Sparc was deep and included international buyers, though none of the foreign investors made offers due to the high hedging costs caused by the strength of the U.S. dollar.
GGLO designed Sparc and Walsh Construction built it. Brokers
Kenny Dudunakis
,
Ben Johnson
and
Dave Sorensen
of Berkadia listed the property for sale.
Sparc was Security's first new mixed-use development on the Eastside, and Nanney said the company is interested in doing more projects in the Bel-Red corridor though it has no property under contract.