Blog Home
Invesco Joins Seattle Companies On Ambitious Portland Development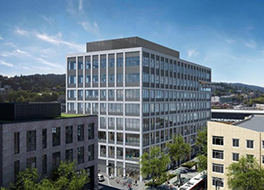 Global real estate investment manager Invesco Real Estate has been busy in the Pacific Northwest in recent years and has joined the Seattle team bringing a three-building development to the Portland's Goose Hollow neighborhood.
Atlanta-based Invesco is investing in one part of the Press Blocks project by Urban Renaissance Group and Security Properties. The investment is in an eight-story office building called Canvas at Press Blocks. The 138,000-square-foot office building will rise at 1750 SW Yamhill St., directly east of Providence Park, where the Portland Timbers professional soccer team plays.
Demolition of a building that once housed The Oregonian newspaper's printing facilities should commence this week, with construction of the building starting this month. Lease Crutcher Lewis is the general contractor for the building, which GBD Architects of Portland designed. Canvas is scheduled to be done in June 2020.
None of the space has been pre-leased. JLL and Urban Works have been hired to find tenants for the office and retail space, respectively.
Phase II of the Press Blocks project will have a 23-story, 341-unit luxury apartment tower and a three-story building with nearly 20,000 square feet of office space and 12,000 square feet of retail. A landscaped pedestrian plaza will separate the buildings. This phase at 1621 S.W. Taylor St. also will have 475 stalls of underground parking.
Mithun of Seattle designed the second phase, which is expected to break ground early next year.
URG and Security Properties acquired the one-and-a-half-block site at 817 S.W. 17th Ave.
from The Oregonian's parent company, Advance Publications, for $20 million in 2017. (Advance also owns American City Business Journals whose titles include the Puget Sound Business Journal and the Portland Business Journal.)
Invesco has sealed several sizable deals in the Portland area in recent years, including
acquiring The Parker apartments
,
the LaSalle Apartments in Beaverton
in partnership with Holland Partner Group and
the nearly 400,000-square-foot Birtcher Center industrial park in Fairview.
In the Puget Sound region, Invesco in June
paid $268 million for a Redmond property
where Microsoft is a tenant, and three years ago
it paid $67.4 million for an under-construction South Lake Union building
that Facebook subsequently leased. And in 2013-14, Invesco paid
a total of more than $531 million for new apartment buildings in Seattle and Bellevue