Blog Home
Security Properties Acquires 182-Unit Sanctuary Apartment Community In Portland For $58.3 Million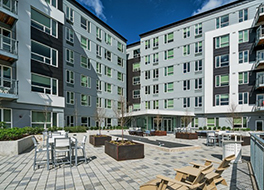 Security Properties and Tokyu Land US Corporation, a fully-integrated real estate investment and development firm, purchased Sanctuary, a 182-unit, Class-A, mid-rise apartment community located in Portland, OR for $58,300,000. This is Security Properties' 10th asset in the Portland MSA, and Tokyu Land's first.
Located along the Willamette River on the southern end of Portland, OR, John's Landing has become one of the most desirable neighborhoods in Portland. Unique to Sanctuary is its site plan that sits directly along the Willamette River, thereby providing unobstructed views of the river. The site also is bisected by the Waterfront Greenway Trail providing convenient bicycle and running trail access for tenants.
Built in multiple phases, the $1.9 billion South Waterfront community is one of the largest urban redevelopment projects in the nation. The South Waterfront offers a mix of boutique retailers, local bars, and restaurants. The area is anchored by OHSU, one of the biggest employers in Oregon with over 15,000 employees. OHSU is well underway on a multi-project expansion to its South Waterfront campus that will bring in many new medical professionals to the submarket.
Given Sanctuary's proximity to downtown Portlandas well as the MAX line, residents can access all of the key employers in the MSA with relative ease in addition to walking to the OHSU campus. Other notable employers in the submarket include: Under Armour, who moved into their new facility in 2017; Portland State University, the state's largest university; as well as the abundance of tech employers located Downtown, including Google, Oracle, and Jama Software.
Davis Vaughn, Senior Director of Investments at Security Properties says, "Sanctuary has an irreplaceable location along the river that will give it a permanent competitive advantage. Additionally, as OHSU continues to expand, the South Waterfront will only become more desirable as a place to live. Our asset is well positioned for growth and we look forward to unlocking value for our investors with this core acquisition."
Nobuhide Kashiwagi, president of Tokyu Land US, said, "We identified Portland as a growth market for us earlier in 2018, and are excited for our first purchase in the MSA. This asset is a great addition to our growing multifamily portfolio, and are looking forward to continuing our acquisitions in the Pacific Northwest. Sanctuary's quality construction and superior location provide us with a stable foothold upon which to grow."
The property will be managed by Security Properties-affiliate Security Properties Residential.