Blog Home
Security Properties Acquires 420-Unit The Grove At City Center Apartment Community In Aurora, Colorado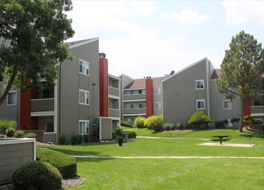 Security Properties and funds managed by Oaktree Capital Management purchased The Grove at City Center, a 420-unit, Class-B garden style property located in Aurora, CO. This was Security Properties' fourth joint venture with Oaktree. With this acquisition, Security Properties has now closed on four market rate properties in Colorado within the last 12 months. In addition, they also own affordable housing properties throughout metro Denver.
Located at the crosshairs of East Mississippi Avenue and Interstate-225, The Grove at City Center boasts exceptional accessibility to local and regional amenities. East Mississippi Avenue, a primary east-west corridor, is a highly-traversed road that services 53,000 riders daily, thereby providing great drive-by exposure. Further, located just two blocks from Interstate-225, The Grove at City Center benefits from its quick access to a number of regional amenities / economic drivers within Denver, including the Fitzsimons Medical Campus, BuckleyAir Force Base, as well as the Denver Tech Center.
Units feature a mix of 1- and 2- bedroom floor plans, offering in-unit washers and dryers, a stainless steel appliance package, wood burning fireplaces, and air conditioning. Prior ownership had upgraded all common areas as well as unit interiors; however, Security Properties sees an opportunity to create additional value. The property-level business plan features light cosmetic-upgrades, including the addition of backsplashes, USB outlets, as well as under-cabinet lighting. When finished, the units will offer finishes that are unique to the properties in the comp set. Additionally, the property offers a comprehensive amenity package including a swimming pool, a remodeled clubhouse with lounging areas, a fitness room, as well as a dog park.
Tad Johnson, Senior Investment Manager at Security Properties says, "The recent renovations at The Grove at City Center resulted in an attractive income producing asset. The asset's central location in Aurora benefits from close proximity to a handful of marquee jobs nodes that are driving demand for housing. We expect the current strong fundamentals in the submarket to continue, resulting in durable cash flow for this long term investment."
Jared Lazarus, Managing Director at Oaktree, added, "As we continue to expand our income-producing, core-plus business through strategic relationships, we're excited to partner once again with Security Properties on another compelling transaction in a high-growth, supply constrained market. The Aurora submarket in the Denver MSA continues to exhibit some of the strongest apartment fundamentals in the United States"