Blog Home
Security Properties Acquires 440-Unit Arbor Creek Apartments For $84.3 Million In Portland Market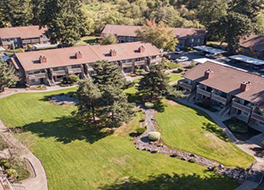 Security Properties purchased Arbor Creek, a 440-unit, Class-B garden-style community located in Beaverton, OR for $84,300,000. This is Security Properties' ninth asset in the Portland market. Sitting 25 minutes west of downtown Portland, the area is best characterized by its suburban neighborhood feel and convenient access to the largest employers in the Portland MSA. Arbor Creek benefits from its accessibility off of SW Tualatin Valley Highway, the primary thoroughfare connecting Hillsboro and Beaverton. Within a 10 minute drive, residents have access to an array of grocers, Regal Cinemas, a MAX line, and the Tualatin Hills Nature Park. The park, sitting directly adjacent to the property, offers 5 miles of scenic wetland walking trails spread out over 222 acres.
Beaverton is renowned globally for being the home of Nike. Nike, whose world headquarters is located less than 10 minutes from the property, has been drastically expanding their campus. Nike's employment in Oregon has increased by almost 60% since 2007, bringing total employment in Beaverton to 8,500 and 56,500 worldwide. To accommodate the increased headcount, construction began on a $380 million, 3.2 million square foot expansion in January of 2015, and the project's anticipated completion is slated for the end of 2018. Additionally, the largest employer in Oregon, Intel, has four campuses within 15 minutes of the property. Ronler Acres, their most regarded campus, serves as their largest concentration of facilities and talent in the world.
The asset represents a heavy value-add investment. The units at Arbor Creek offer a mix of 1x1 and 2x2 floor plans. Current ownership has renovated approximately 80% of the units with upgraded cabinets, resurfaced counters, vinyl flooring, faux stainless steel appliances, and upgraded light fixtures. Security Properties will be improving the units by installing vinyl planks throughout, in addition to spraying the countertops. Security Properties will also be updating the clubhouse, revamping the pool deck and improving the outdoor common spaces.
Davis Vaughn, Senior Director of Investments at Security Properties says, "Arbor Creek was a target for our portfolio because of the clear value-add opportunity. Additionally, with a significant supply-demand imbalance due to the suburban Portland job creation, Arbor Creek is well positioned for future growth. We look forward to implementing our business plan and creating value for our investors"
The property will be managed by Security Properties-affiliate Security Properties Residential.